If Cinco de Mayo is your excuse to drink margaritas, you simply must put these six unique margarita recipes on your Cinco de Mayo party menu. The classic margarita is always a welcome cocktail, but margaritas with flavorful upgrades will make your family and friends cheer with margarita-sipping excitement. From fruit and fresh herbs, to frozen 'ritas and jalapeño heat, the following margarita recipes are must-makes for your Cinco de Mayo fiesta.
Spicy frozen mango margarita
Spicy cocktails are life, and this mango margarita is the perfect blend of sweet and heat. Combine árbol chili-infused tequila with frozen mango for a drink made in heaven — your Cinco de Mayo guests will fall in love.
Watermelon margaritas
Whip up our refreshingly sweet watermelon margaritas for your Cinco de Mayo party and your drink-loving guests will shout "Olé!" Inspired by Minimalist Baker, these lip-smacking good cocktails require three basic ingredients — juicy watermelon, fresh lime juice and silver tequila — which means you can get your party started in just minutes.
Boozy margarita pie
If there's anything you will appreciate more than a nice drink on Cinco de Mayo, it's going to be this boozy margarita pie. Made with ginger snaps, fresh lime, and plenty of tequila, this creamy dessert is a must-try.
Spicy raspberry jalapeño margaritas
Your family and friends will go wild for these spicy raspberry jalapeño margaritas from Hola Jalapeño. A sassy combination of raspberry syrup, jalapeño-infused tequila and lots of fresh-squeezed lime juice, these tongue-tantalizing drinks will be the Cinco de Mayo cocktails you'll want to serve all summer long.
MORE: Make these vegan spiced chocolate cupcakes with avocado frosting for Cinco de Mayo
Keto margarita
If you're spending your Cinco de Mayo without all the extra added sugar, don't fret, we have just the drink for you. This homemade keto margarita is all of the above flavors: sweet, spicy, and sour, which means you can enjoy this delicious margarita without worry.
Fresh pineapple margaritas
Take your Cinco de Mayo dinner guests on a tropical drink adventure with these fresh pineapple margaritas from Love Grows Wild. A perfect complement to a spicy Mexican meal, these sweet and salty cocktails burst in your mouth with pineapple and citrus flavors and leave you savoring bits of salt and sugar on your lips.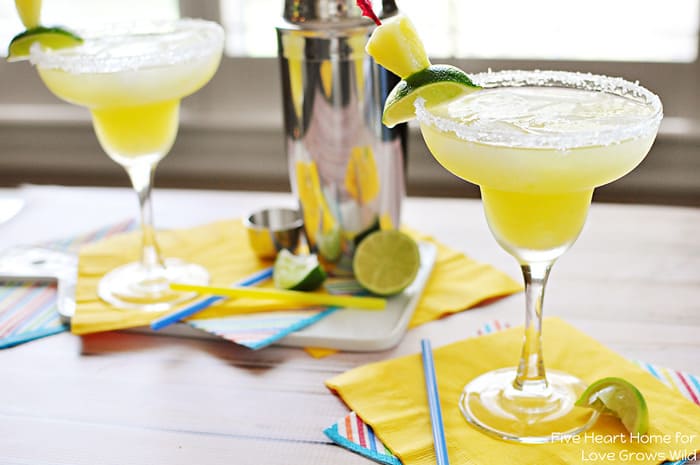 Frozen peach and orange margaritas
When the balmy near-summer temperatures have your Cinco de Mayo guests wiping their brow, a frozen margarita is in order. These frozen peach Cara cara orange margaritas from Real Housemoms are a frosty cool Mexican cocktail that you make with frozen peaches, Cara cara orange juice, triple sec, tequila and fresh lime juice.
Cucumber margaritas
Liven up your fiesta with these cucumber margaritas from The Wicked Noodle. A perfect drink for Cinco de Mayo, these cocktails are an exhilarating change from the classic margarita. They feature fresh lime, cucumber, jalapeño, tequila, Grand Marnier and a homemade simple syrup made from stevia.
MORE: Boozy margarita pie is your drink and dessert, all in one
Basil margarita
Surprise your Cinco de Mayo party guests with this basil margarita from Gonna Want Seconds. Fresh herbs in a margarita? You had better believe it! This fun and festive Cinco de Mayo cocktail will skyrocket to the top of your drink list. You make it with fresh basil, lime juice, agave syrup, a generous amount of tequila and a splash of triple sec.
Vanilla chai martini
While it's not quite a margarita, this dessert martini is perfect for any Cinco de Mayo celebration. Made with chai infused tequila and a Mexican chocolate drink, this creamy concoction is sweet with just the right amount of spice.