Your priorities tend to change when you have children, which means Cinco de Mayo may look a lot different now that you're a parent. Instead of pre-gaming for a boozy celebration by downing tequila shots, you're probably pondering ways to have a family-friendly Cinco de Mayo instead. And, fortunately, there are plenty of ways to celebrate this festive holiday that include your kiddos.
To help you get your family-friendly fiesta on, we've compiled a list of ideas for throwing a Cinco de Mayo party that your little humans will love. Happy Cinco de Mayo!
Build excitement prior to the party
Since Cinco de Mayo is a holiday rooted in Mexican culture, it only seems right to get your kids pumped up by learning some fun facts about the country. So, a few days ahead, head to your local library or search Google to find interesting tidbits. Find Mexico on a map. Maybe even teach your kids a couple of Spanish words or phrases (or, depending on their language skills, have them teach you!).
Let your kids make the decorations
Cinco de Mayo is a celebration that embraces color. Kids love color. It's a match made in holiday heaven! Plus, do we really need to mention the fact it gives you one less thing to make? Hit up Pinterest for DIY craft ideas, or just put out a couple of stacks of colorful construction paper and let the kids go wild. If you really want to work smarter as opposed to harder, get your kids to blow up all the party balloons, too.
MORE: How to make a holiday-themed doormat
Make sure you have mocktails on hand
Cinco de Mayo is the fifth-highest drinking holiday, so you definitely won't be alone if you want to drink all the cervezas. Or a margarita the size of your head. But since you'll have your littles around, you're probably going to want to keep things low-key on the booze-front this year.
One fun alternative? Make mocktails. Your kids will actually be able to partake of these alcohol-free beverages — and you will too, for that matter. The Pinning Mama's classic margarita mocktail would be a hit, as would Real Housemoms' virgin mango orange mojito.
Pregame with chips and salsa
Everyone loves chips and salsa, right? And as any mama knows, there's no way kids are going to wait for food — they require sustenance to graze upon, lest they remind you every five minutes that they're "staaaaaarving." So, let them eat chips and salsa. If your kids are a little older, you can even have them help you prep ingredients and toss 'em in the food processor. Just make sure you have at least one mild variety for the littlest littles.
MORE: This cranberry-jalapeño salsa is ridiculously good
Make backup food for tiny tummies
While it seems like sacrilege to suggest anyone doesn't like authentic Mexican food, most of us know all too well that kids can be super-fickle eaters. Should you serve yummy dishes like roasted Hatch chile and corn-stacked enchiladas? Absolutely. Mexican sopes from Yellow Bliss Road? Yum! However, make sure you have something that's also easy for picky eaters to, well, pick apart.
We recommend a traditional taco bar or fajita station. Kids who aren't crazy about pico de gallo or guac can just chow on grilled chicken, steak, tomatoes and other snack-like fixings.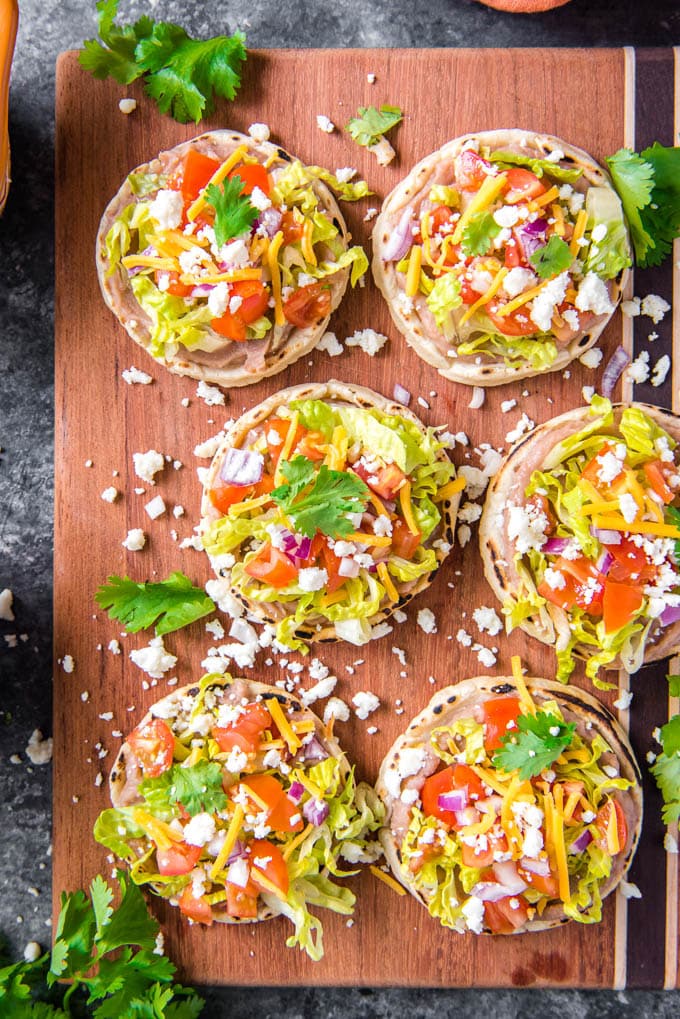 Games and activities
The key to avoiding total chaos at a party with kids is to keep them busy — this we know, right? The spirit of Cinco de Mayo is a perfect fit for fun and games. You could set up a photo booth with themed props (think sombreros) or try Squirrelly Minds' cute cut-out cactus photo booth. And you'll clearly want a piñata or two. Because, piñatas.
Make some noise
Little ones love music, and there's no happier music than mariachi music. Have a Spotify soundtrack at the ready and encourage kids to get up and dance. For those less sure on their feet, they can "shake" along to the beat — Fun Family Crafts offers an easy tutorial to help kiddos make paper bag maracas.
End the night with a Mexican dessert
After a full day of festive play, cap the night with a sweet note by serving a Mexican dessert. Head over to Hola Jalapeño before Cinco de Mayo to map out which treats you want to make, but be forewarned: You might have trouble picking just one. Membrillo doughnuts, churros with chocolate ice cream, creamy coconut lime paletas — heck, get the kids to help in the kitchen and just serve up a smorgasbord.